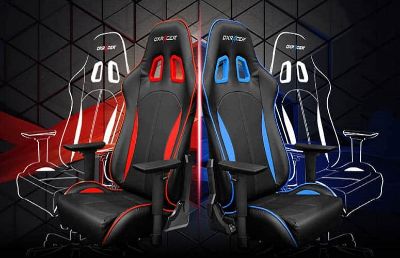 Gaming Chairs have become a necessary item for a gaming setup. Without it, the gaming setup is never complete. Regardless of how eye-catchy a rig is, or the components used in the build, or how many RGB & Flashy the outlooks make it, a stylish & modern gaming chair is the first thing that comes in contact with the eye before everything else. Gaming Chairs have become that much popular in the gaming community in Bangladesh. Starting from mainstream gamers to casual, everyone with a gaming rig has the thought of purchasing a gaming chair. Whether you play on a desktop or a console, whether you steam your game or go live or play for entertainment, a gaming chair is what brings it all together. They're designed for style, durability, flexibility & comfort.
What are the benefits of a dedicated gaming chair?
Gaming chairs are designed by gamers, for gamers. World-known gaming brands like Aula have created chairs to make the gaming experience even more remarkable. Gaming chairs are designed to endure pressure from the user, & keep up with radical & spontaneous movement while gaming. The outlook of a gaming chair is very much similar to an executive chair with key differences. Such as the outlook, designing & color pattern. They are pretty substantial compared to a regular chair, with backrests that extend high enough to support your head, along with massive armrests and a swiveling base with wheels that let you roll and spin freely. They have a strong built quality that is very durable for the long run. Their color scheme makes them stand out from the normal chairs. You can pick anyone that brings your gaming setup together.
What Gaming Chair Brands are available in Bangladesh?
Major gaming brands like Gamdias, Gigabyte, Fantech, MSI, Thermaltake, & Coolermaster have already manufactured chairs that are currently available in Bangladesh. Those chairs are very modern-looking & some are even technologically advanced with built-in RBG systems that make them more appealing. For those who prefer comfort over everything else, some chairs are made with comfort in mind. Each of those chairs can be considered gaming but with a different built structure & look. Other brands like Havit, Marvo have recognized the potential market growth in it & have also introduced gaming chairs with similar features at budget-friendly prices. All of which you can get from Dhaka, Bangladesh. All the mentioned brands are currently making a huge demand in the Bangladesh market with more room to grow further. They constantly evolve their design & add new & more luxurious features to their chairs to ensure an optimal gaming experience. And you can be assured all those new releases will be available in the Bangladesh market soon enough.
Which gaming chairs are now most popular in the Bangladesh Market?
Ranking gaming chairs along with their key features & availability, in the Bangladesh market.
The F8093 Gaming Chair From Aula. The Aula F8093 Gaming Chair is Specially Designed For Gaming, Safety Angle Makes You More Comfortable When Playing Games Sitting Down Adjustable Height Of Position, Keeps You Comfortable After Hours Of Gaming Or Work ERGONOMIC AND MODERN SEATBACK DESIGN. This Aula Gaming Chair Height 360 Rotation Adjustable Backrest With 90* To 125° Strong Metal Chassis Frame Designed To Help Increase Comfort Adjustable Seat Height. Aula Gaming Chair Has Excellent Logo Embroidery Technology, Make The Gaming Chair More Attractive Sliding Rail Armrest, More Comfortable Arm Placement The Back Of The Chair Is Widened And Thickened.
2.AULA F1007 ERGONOMIC SEATBACK DESIGN GAMING CHAIR
ERGONOMIC AND MODERN SEATBACK DESIGNHigh Quality GAMING CHAIR DESIGNERGONOMIC SEATBACK DESIGN with adjustable backrest.360° quiz rotation with 90* to 180° strong metal frame designed to help increase comfort, safety angle makes you more comfortable when playing games sitting down.Adjustable height from position, keeps you comfortable after hours of gaming or work Adjustable seat height, excellent logo embroidery technology, unique camouflage color, make the gaming chair more attractiveVisually cool , Good sightNot tired after sitting for a long time
GoldenBd & Engineering Ltd